Venue & Hospitality
Best Western Premier
Airport Hotel Fontane Berlin
Jonas-Lie-Straße 5-11
15831 Berlin, Germany
Conference Dates: April 20-21, 2020
Hotel Services & Amenities
Audio/Visual Equipment Rental.
Business Center.
Business Phone Service.
Complimentary Printing Service.
Express Mail.
Fax.
Meeting Rooms.
Office Rental.
Photo Copying Service.
Secretarial Service.
Telex.
Typewriter.
Video Conference.
Video Messaging.
Video Phone.
ATM.
Baggage Storage.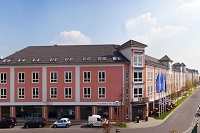 Transportation
Berlin Schönefeld Airport
12529 Schönefeld, Germany
Head west on Am Seegraben/B96a toward Waltersdorfer Chaussee
Continue to follow B96a
6.6 km
Turn left onto Glasower Allee
190 m
Turn right
600 m
Continue onto B96a
200 m
Turn left onto Herderstraße
Destination will be on the left
400 m
Best Western Premier Airporthotel Fontane Berlin
Jonas-Lie-Straße 11, 15831 Blankenfelde-Mahlow, Germany
About City
Berlin is the capital and the major city of Germany, as well as one of its 16 constituent states. With a progressively growing population of approximately 3.7 million, Within the terms of population, Berlin is that the Second most populated town within the global organization and therefore the seventh most occupied geographical area within the global organization. Situated in north-eastern Germany on the banks of the rivers Spree and Havel, it is the center of the Berlin-Brandenburg Metropolitan Region, which has coarsely 6 million residents. Due to its place in the European Plain, Berlin is prejudiced by a temperate seasonal climate. Around one-third of the city's area is self-possessed of forests, parks, gardens, rivers, canals and lakes. Berlin is an environment city of culture, politics, media and science. The metropolis is a general tourist terminus. Significant industries also comprise IT, pharmaceuticals, biomedical engineering, clean tech, biotechnology, construction and electronics. Berlin is home to world-renowned universities, orchestras, museums, and entertaining venues, and is host to many sporting events. Its Zoological Garden is the furthermost visited zoo in Europe. With the world's oldest important movie studio complex, Berlin is a progressively popular location for international film productions. The city is well recognized for its festivals, diverse architecture, nightlife, contemporary arts and a very high quality of living. Since the 2000s Berlin has perceived the emergence of a cosmopolitan entrepreneurial scene. As per of 2014, Berlin had 878 schools, teaching 340,658 children in 13,727 classes and 56,787 trainees in businesses and elsewhere. Berlin is a continental hub for air and rail traffic and encompasses an extremely advanced public transportation network. The metropolis might be a well-liked traveler destination. Important industries additionally embrace IT, pharmaceuticals, medical specialty engineering, clean tech, biotechnology, construction and physics. Parks, lakes and forests comprise around one third of Berlin's total space. Berlin has a greater bilingual school program in the Europe schedule, in which children are skilled the curriculum in German and a foreign language, starting in primary school and continuing in high school. The Berlin-Brandenburg capital region is one of the most creative Centre's of higher education and research in Germany and Europe. Historically, 40 Nobel Prize champions are affiliated with the Berlin-based universities. The city has four public research universities and more than 30 privates, professional, and technical colleges, offering a wide range of disciplines. A record number of 175,651 students were registered in the winter term of 2015/16. Amongst them around 18% have an international background. The annual Berlin is one in every of the highlights throughout Gregorian calendar month, that attracts celebrities and stars from round the world and therefore the options previewed here square measure typically several the most effective.
Berlin has a humid continental rendering to the Koppel climate classification system. There are important influences of mild continental climate due to its inland position, with frosts being common in winter and there being greater temperature differences between seasons than typical for numerous oceanic climates.
Summers are warm and occasionally humid with average high temperatures of 22–25 °C (72–77 °F) and lows of 12–14 °C (54–57 °F). Winters are cool with normal high temperatures of 3 °C (37 °F) and lows of −2 to 0 °C (28 to 32 °F). Spring and autumn are usually chilly to mild. Berlin's built-up area generates a microclimate, with heat stored by the city's buildings. Temperatures can be 4 °C (7 °F) sophisticated in the city than in the neighboring areas.
Conferences By Continents
Americas
Asia-Pacific & Middle East
Europe & UK
Medical & Clinical Conferences
Mail us at
Abstract Submission / Registration.

General Queries.

Sponsors / Exhibiting / Advertising.
Be a member and support us
Authorization Policy
By registering for the conference you grant permission to Conference Series LLC Ltd to photograph, film or record and use your name, likeness, image, voice and comments and to publish, reproduce, exhibit, distribute, broadcast, edit and/or digitize the resulting images and materials in publications, advertising materials, or in any other form worldwide without compensation. Taking of photographs and/or videotaping during any session is prohibited. Contact us for any queries.