Day 1 :
Keynote Forum
Virginia Commonwealth University School of Medicine, USA
Time : 9:20-9:50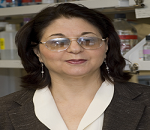 Biography:
Dr. Sarah Spiegel is the Chair of the Department of Biochemistry and Molecular Biology at Virginial Commonwealth University School of Medicine and directs the Cancer Cell Signaling Program at the MCC. Her research is focused on sphingosine-1-phosphate (S1P), whose functions as a pleiotropic signaling lipid were discovered in her lab that opened a new areas of research focused on this bioactive sphingolipid metabolite. As a result of her work, it is now recognized that S1P regulates numerous biological processes and is critical for health and diseases. She has published more than 300 papers and received many awards for her work.
Abstract:
Breast cancer remains the most common malignant disease in women. The estrogen receptor-α (ERα) and its ligand 17β-estradiol (E2) play important roles in breast cancer. E2 elicits cellular effects by binding to ERα in the cytosol followed by receptor dimerization and translocation to the nucleus where it regulates gene expression by binding to ERE response elements. However, it has become apparent that E2 also exerts rapid non-genomic effects through membrane-associated receptors. There is emerging evidence that this induces formation of the bioactive sphingolipid metabolite sphingosine-1-phosphate (S1P). S1P in turn regulates many processes important in breast cancer progression and metastasis. One of the enzymes that produce S1P, sphingosine kinase 1 (SphK1), is upregulated in breast cancer and its expression has been correlated with poor prognosis. This lecture will focus on the role of the SphK/S1P axis in estrogen signaling and breast cancer progression. I will also discuss new data showing that ERα36 is the E2 membrane receptor required for E2-mediated SphK1 activation and rapid secretion of S1P, which regulates some of the non-genomic effects of E2. Our data also suggests that targeting SphK1/S1P signaling may potentially be a new therapeutic option for treatment of triple negative breast cancer. This work was supported by DoD Award W81XWH-14-1-0086.
Keynote Forum
MD Anderson Cancer Center, USA
Time : 9:50-10:20

Biography:
Yun Gong has received her MD degree in 1984 and then finished her Postgraduate Pathology training in 1989 at Zhejiang Medical University in China. She then worked as a Post-doctor and Research Associate in the Shanghai Institute of Cell Biology, Chinese Academy of Sciences, Catholic University of Nijmegen, the Netherlands and the Scripps Research Institute, La Jolla, California. From 1998 to 2002, she has received her residency training in Anatomic and Clinical Pathology at Northwestern University Medical School in Chicago, followed by one-year cytopathology fellowship training at MD Anderson Cancer Center. From 2003, she became a Faculty Member at the Dept. of Pathology, MD Anderson Cancer Center, and currently is a Full Professor. She has numerous publications in the fields of breast cancer research and cytopathology (120 peer-review articles, 18 invited articles, 6 book chapters and 1 book, 118 abstracts). She is an important collaborator of two IBC research projects that were funded by Susan G Komen Promise Grant. She is a Guest Editor of Breast Diseases: Year Book of Oncology since 2011, a Member of the study section of MD Anderson Institutional Research Grant Program, and was a reviewer for NCI/NIH on Business Innovation Research Contract Proposals in 2009 and 2013.
Abstract:
Inflammatory breast cancer (IBC) is rare but the most lethal type of breast cancer. IBC is often associated with early metastasis and resistance to conventional therapies. Understanding biological insights that underlie the aggressive behavior of IBC and identifying novel therapeutic strategies are highly desirable for improvement of clinical outcome in patients with IBC. This presentation will cover the clinic-pathologic significance of some important biomarkers expression in a cohort of IBC that have long-term clinical follow-up and treatment information. Our results indicated that EZH2 and PD-L1 (clone 28-8) expression status may be used to identify a subset of patients who have a relatively worse prognosis. Targeting EZH2 also may provide a novel strategy for improving the clinical outcome of patients with IBC. In addition, androgen receptor expression was significantly associated with lymphovascular invasion. Additional information and discussion will be presented.